AFCA receives over 6,000 complaints in first operating month

Common complaints include decisions made by financial firms on responsible lending
Moving into a new age of broking

With 2018 drawing to a close, Connective's Mark Haron shares his thoughts on the current state of broking
SPECIAL REPORTS
2018 Commercial Lenders Roundtable
Top 10 Brokerages 2018
2018 Brokers on Aggregators
By evolving to meet brokers' and customers' primary needs, this offering has soared in popularity
Advantedge's financial year results for 2017/8 show that white label home loans have continued to benefit from strong growth, driven by increased demand from brokers and end consumers.
This is despite 2018 being a challenging year for the Australian property market, which dropped by 2.7% since peaking in September 2017, according to data from CoreLogic. Yet against this backdrop, white label home loans have continued to grow in popularity.
White label across industries
White label products have grown their footprint in the mortgage market and also across other industries.
In the retail space, for example, consumer appetite for non-branded supermarket products is soaring, with major retailers actively investing in white label. Coles is aiming to increase white label products to 40% of its product range over the next five years. There is rising awareness among retailers that white label has the potential to improve margins and be a point of difference in a competitive marketplace.
First introduced in Australia by Advantedge, white label home loans had a quick uptake among brokers and aggregators because of the many benefits this offering brought their businesses.
Now more than eight in 10 brokers have access to Advantedge's white label loans. According to research from the MFAA, white label home loans accounted for 7.3% of all broker-originated loans from July to September 2017.
That helps explain how Advantedge achieved 11.9% year-on-year book growth, as at 30 June 2018, and the number of active brokers using our products also increased to 19.5%.
Advantedge's latest broker satisfaction survey, conducted in August 2018, highlights many of the reasons why our proposition resonates with brokers. Brokers ranked Advantedge highly on superior service, simple product and competitive rates, which led to an overall strong Net Promoter Score (NPS) of +40.
Strong results were also achieved on the customer front, with an end-customer NPS of +38. Customers gave the broker who helped set up the white label home loan an NPS of +76.
The fact that four out of five end customers are extremely likely to recommend their broker demonstrates the enormous value they place on personalised service, and why brokers are the channel of choice for consumers.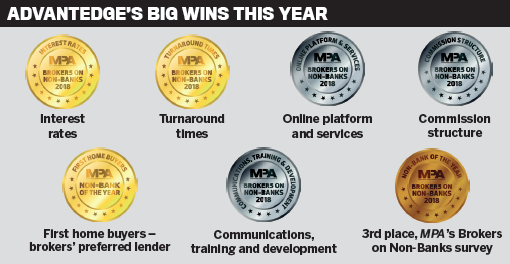 Improving efficiency for faster service
During FY2017/8, a key focus for Advantedge has been investing in digital enhancements to improve turnaround times, which the latest MPA Brokers on Non-Banks survey showed was the second-most-important priority behind credit policy.
Brokers and customers alike continue to embrace solutions, including the digital verification of identity apps – IDyou and ZipID – and digital send and sign capability. These tools improve efficiency and reduce errors to avoid any delays in the application process.
These enhancements, along with our detailed submission checklist to assist brokers, have contributed to a significant time reduction for approvals. From 1 July 2017 to 20 June 2018, 29% of applications received unconditional approval within two days and 18% within four days.
A broker's perspective on loan refinancing
Broker Elie Ayoub from Invictus Finance Solutions in Balwyn North, Melbourne, has been on a decade-long journey to build his business from the ground up, and says Advantedge has been assisting him since day one. He says Advantedge's products, process and technology help him complete both new loans and refinances days earlier than he could with another lender. Ayoub regularly uses the FASTRefi process for clients who fi t the criteria, estimating time savings of 10 days for a standard refinancing scenario.
"Some lenders are quoting 21 days for a standard application, which is frightening," he says. "Combine a FASTRefi with DocuSign and you could cut up to three weeks off the standard refinance process. I could potentially settle another two deals in those three weeks."
Quality product with great rates
Competitive pricing has always been a key feature of the white label proposition, and at Advantedge we have continued to deliver on this promise, with our rates generally sitting within the top three second-tier lenders for lowest rates. For our principal and interest rate for investors, Advantedge has provided the second-lowest rates on average.
This was also recognised in this year's MPA Brokers on Non-Banks survey, in which Advantedge received a gold medal in the interest rates category.
Responsible lending under the microscope
To wrap up, 2018 was a stellar year for Advantedge, despite challenging conditions in the property market as a whole. This is a testament to the ongoing support we have received from brokers and their customers, and the hard work of our team.
As part of the NAB Group, we've taken a leadership position in the Combined Industry Forum and we've committed to implementing reform that raises the bar for the broking industry for continuous improvement. We showed this by being the first to announce changes to our broker commission structure in September, and we will soon be introducing a Broker Interview Guide to help brokers deliver solutions that align as closely as possible with a customer's specific requirements and objectives.
It's been an interesting year with industry changes, but we will not stand still. We'll continue to move forward and help support brokers and their customers in achieving good customer outcomes and great customer experience.