The women spearheading progress

Celebrating 12 women from across the lending and broking spectrum who are reinventing the industry's image and revitalising broking
Vast majority of brokers opt to retain CBA accreditation

Brokers who hadn't settled a loan with the bank in more than 12 months were required to complete an e-learning module
SPECIAL REPORTS
2018 Commercial Lenders Roundtable
Top 10 Brokerages 2018
2018 Brokers on Aggregators
Suncorp research shows talking more openly about this taboo topic can empower people to improve their wealth
People don't like talking about money… even to their partners.
Suncorp research has revealed that, on the subject of money, Australians are tight-lipped. Only about half of people who earn $60,000 or less tell their spouses how much they earn. That increased to just over three quarters of those who earn $100,001–$150,000 a year.
People would rather talk about religion, relationships and politics than the taboo subjects of salary, savings and spending habits, according to the national survey of 1,500 Australians. When respondents were asked why they steer clear of this subject, half said, "It's just not something you talk to people about".
"Money is arguably a more emotive topic than religion or politics, as it's so closely related to our perception of personal success," says Suncorp behavioural economist Phil Slade, an expert on the psychology of spending.
"Openly discussing our financial situation can allow others to see gaps between our presentational self and our 'actual self ', and that makes most people feel vulnerable," Slade explains.
"We have a tendency to view our income as an extension of our personal identity. Unfortunately, this can lead to anxiety if we fall short from our perception of success."
When deciding on a home loan or investing in a small business – two of the biggest financial commitments most consumers will ever make – it is imperative that both partners understand their financial situation and how their decisions will affect them. Often that job falls to brokers, who are frequently the first people many of us speak to openly about money.
"In their role as trusted advisers, brokers have a responsibility to ensure both parties intimately understand their financial position and the implications of their financial decisions," says Robynne Frost, Suncorp's national small business and commercial manager. "As an industry we take that responsibility very seriously, both the importance of knowing the customer and creating good customer outcomes."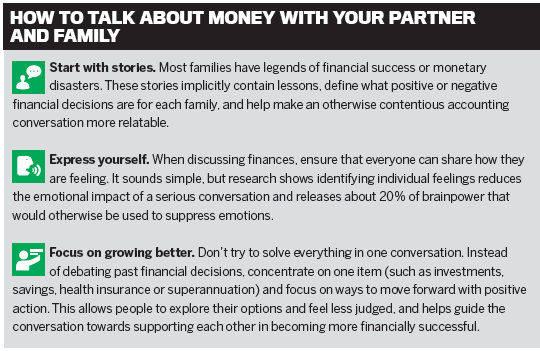 While research shows that women are becoming increasingly confident about making financial decisions for their households and handling day-to-day expenses and budgeting, some couples continue to lean on gender stereotypes that money management is a man's domain.
"It's interesting that, from a financial perspective, gender stereotypes are very much alive and well," Frost says. "There is change, but our data shows it's moving slower than most expect. "At Suncorp, we're committed to promoting financial literacy from an early age. This includes our partnership with the Financial Basics Foundation, giving high-school students the skills they need to make educated decisions around money."
Leaving it up to the man is something Canberra-based broker and financial planner Natasha Janssens, founder of Women with Cents, has encountered while talking to her clients. Often there will be one partner who is more dominant in discussing and making decisions for the pair.
A few years ago a young couple came to see Janssens about upgrading to a new property, and it was clear the woman was relying on her husband to make plans for their future. "She was just assuming that he knew what he was doing, but he was starting to put them in a very risky situation," Janssens says.
"Money is arguably a more emotive topic than religion or politics, as it's so closely related to our perception of personal success" – Phil Slade, Suncorp
She made sure that both were present for their conversations and that the woman was aware of and understood the implications of her husband's decisions so they could go home and have a more meaningful conversation and make decisions they were both comfortable with.
"What we need to be mindful of is that we're giving both parties a voice in the conversation," Janssens says.
"A role for brokers is to help couples get on the same page at that crucial point in their relationship, because you run the risk, if one of them is more vocal and the other just sort of goes along with it, that one day they'll say, 'This isn't what I wanted'."
It is important for not just brokers but also lenders to educate clients, which is where Suncorp stands out as a leader.
Suncorp conducted its research as part of its 'Cost of Living' series, to help couples and families start discussing household finances and get better at managing their money. The lender also recently launched an app that allows customers to manage their home, mobility, money and wellbeing needs from one central hub.
"With more than two thirds of Australians feeling overwhelmed about making financial decisions, the Suncorp app is helping people take back control," Frost says. "With built-in features like our Dollar Tracker and Suncorp Benefits program, the app is also a powerful tool for brokers to use with their customers to better promote financial literacy and wellbeing."
It might also help families build their wealth and plan for the future, especially when it comes to owning a home, having longterm investments and paying for aged care.
"Money is closely linked to our emotions and our life decisions, so it's important that we understand how our attitudes can underpin our behaviour and ultimately affect our financial wealth," Slade says.